On Saturday I attended the madness that was
Septemberfest
, a little beer fiesta on the Paramount lot in Hollywood. It was an interesting sight to see, beer-bellied folk sipping tasty brews pinkys-up out of tiny beer mugs. When we first roll up to the entrance, a tiny unassuming door guarded by just one security person, we're kind of wondering if we're at the right place. [Roxy's] Christopher, from the passenger's seat, rolls down the window as we're doing our snail's-pace driveby, and inquires: "Beerfest?"
A simple nod from the security guard, with arms still crossed, and the affirmative "Beerfest." We were in the right place.
The inside was a bit overwhelming. Not as crowded as I expected with people, but I just didn't know where to begin with all of the breweries, not to mention that most breweries were offering more than one selection of beer. I haven't been through enough beer-sampling training to know how to actually pack away large volumes of it (or any other liquid for that matter, my stomach gets cranky and my bladder full rather easily) so I was frequently taking breaks from pounding - both to rest my stomach and, well, the toilet. The bathroom situation at Septemberfest was woefully inadequate: 2 bathrooms, but only one inside the actual perimeter, and the one inside the perimeter had TWO STALLS. Are you people kidding me? Supplying drunkards with copious amounts of beer and only two stalls per gendered bathroom to deal with the aftermath.
And then, the amazing happened.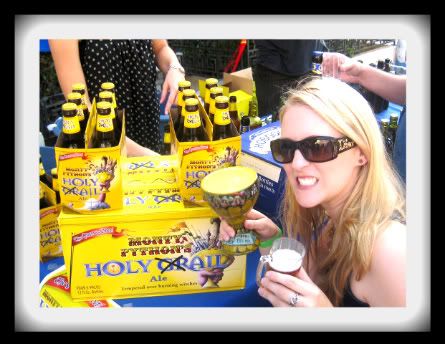 That, my friends, is Monty Python's Holy Grail Ale. All I can say is, WHERE HAVE YOU BEEN ALL OF MY LIFE YOU SCRUMPTIOUS AND ALSO HUMOROUS BEER. I am still overjoyed. And probably will be as long as I keep up hope that I'll be able to find it in stores. Ok, so it really wasn't the *Best* beer there, but I found it to be quite delightful, and with a name like that I just can't resist. Also, it's brewed by the Black Sheep Brewery in the UK, which those of you in GPhi will understand also has special significance to me.
♫♫